Honda L15B7 valve train:  70lb on seat at 35.6mm installed height. 140lbs at 11.0mm valve lift. Coil bind at 23mm. 11.6mm max lift (1mm safety). Can run to 8500rpm with Kelford's 262- range of performance cams.
Lightweight titanium retainer is 30% less mass than the OEM part. This kit includes lightweight higher rate racing springs to allow the valvetrain to achieve a higher rpm limit. Valve spring is high frequency to help reduce spring surge at high rpm. The OEM spring base is replaced with new parts included in the kit. Stem seals will need to be removed when fitting this kit and replaced with those provided.
Kit includes: 16 valve springs. 16 titanium retainers. 16 stem seals. 8 intake spring seats. 8 exhaust spring seats.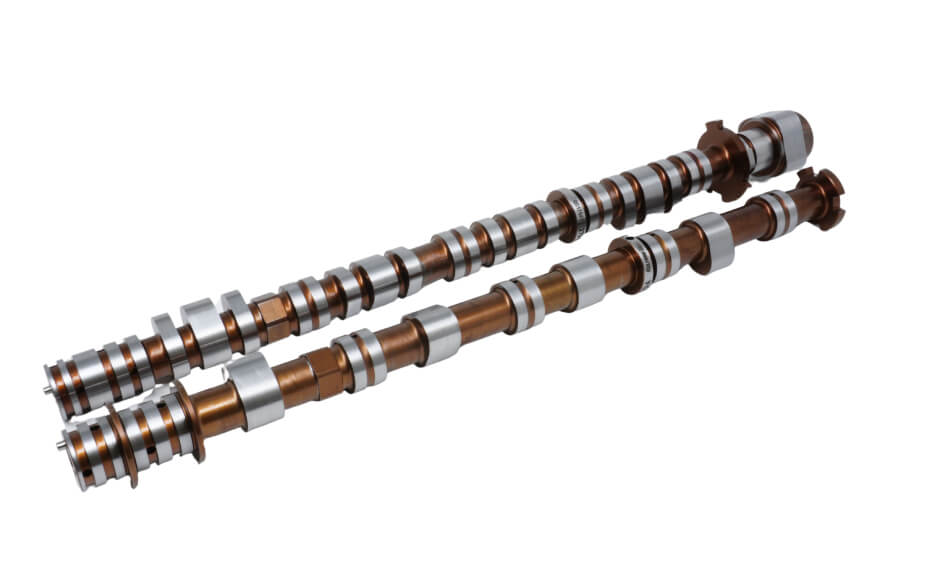 279-EZ | 258°/268° | 9.90mm/10.40mm Valve Lift
258°/268° drop-in cams for the K20C1 engine found in the Civic Type R Turbo. These cams are designed to maximise the limitations of the OEM valve spring in street/track day cars. Cam profiles designed to be kinder to valvetrain to allow more valvetrain safety when adding additional boost. Good mid-range to higher rpm gains. Suits OEM turbo or bolt-on turbo upgrade (48-55mm) with a reflash of stock ECU. Maintains smooth idle. Must retain OEM rpm limit with OEM valve spring. Primary exhaust lobe spec: 244° / 9.9mm
279-A | 272°/280° | 10.70mm/11.00mm Valve Lift
272°/280° cams for the K20C1 engine found in the Civic Type R Turbo. Cams suit street/track day cars. Suits 54-66mm turbo upgrade. For engines making 450hp+. Increase in mid-high rpm power. Valve spring upgrade required for high lift. For up to 9000rpm Kelford Cams recommend KVS279-BT. Valve to piston clearance needs checking. Primary exhaust lobe spec: 256° / 9.9mm
279-B | 282°/284° | 12.50mm/12.50mm Valve Lift
282°/284° racing cams for the K20C1 engine found in the Civic Type R Turbo. Cams suit motorsport applications such as circuit racing, roll racing and drag racing. Suits 64mm+ turbo. For professionally built engines making 700hp+. Valve spring upgrade required for high lift. For up to 9250rpm Kelford Cams recommend KVS279-BT. Valve to piston clearance needs checking. Primary exhaust lobe spec: 258° / 10.0mm